Recommended Hygiene Practices for Semi-Permanent Makeup Salons
9 min read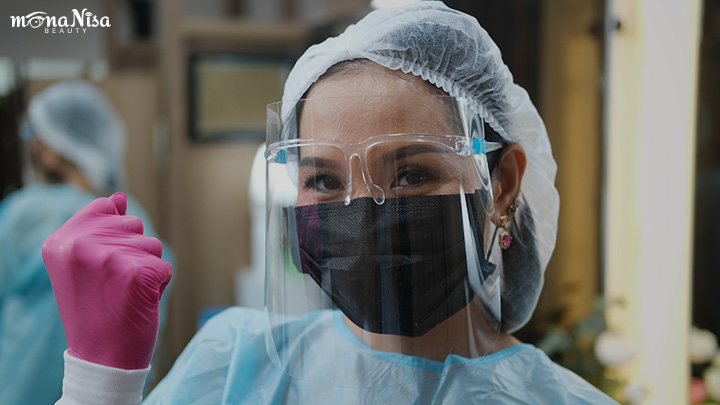 Proper hygiene should be implemented in semi-permanent make up salons. It is even more crucial during times of COVID-19. We have listed our best hygiene practices at MonaNisa Beauty to ensure the maximum level of safety for both our clients and artists.
Usage of needles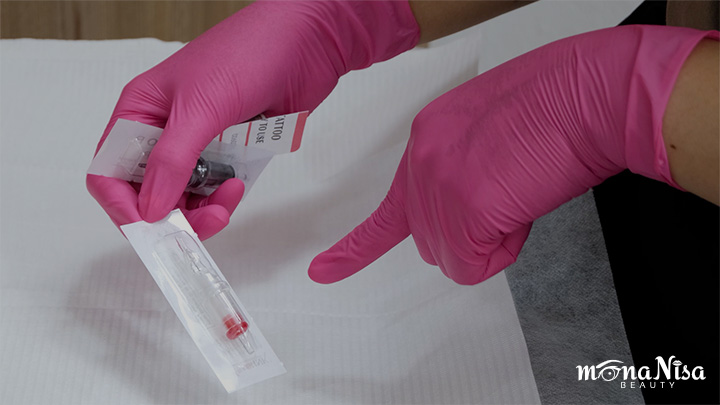 Clients often ask: "Do you use brand new needles?" The usage of brand new, off-the-box needles is definitely a basic standard. Nowadays, needles are not boiled in hot water, sharpened for further usage.
Needles these days come in a 1-needle package for single use only, like syringes, to prevent any infection. Each pack of needles are sterilized at the factory and have a production date and expiration date written on each package.
Each brand of needles has a different standard of production. Some factories are of a low standard and don't sterilize the product well and produce a copycat bad product, so the shop owners or artists need to have knowledge about the production process and choose a trustable brand.
In our clinic, we use many brands of needles, including our own brand to obtain the perfect size because each case requires a different kind of needle. Our artists need to know that different designs of needle tips perform differently.
We often need to use at least 2 needles for every 1 procedure because the needles must always be new and sharp. Once our technicians realize that the needles lose their sharpness, they will change to a new one.
Depending on how the needle performs with the chosen pigments, we will use different sized needles. We will discard needles after each case so it's impossible to reuse the needles over different clients or even over several sessions with the same client.
Disposal of Used Needles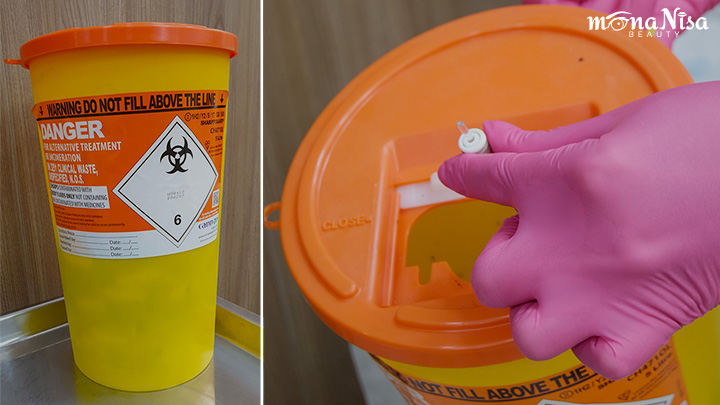 Used needles shall not be discarded in a normal bin or any container. A specific sharp disposable container up to the medical standard shall be used. This sharp disposal container shall be solid enough to not break easily and once it is closed, it shall not be opened again to prevent any injury to staff or other people.
Our clinic works with a specialized company that will come collect the boxes to destroy them properly. We keep track of those discard procedures in case we need to provide proof of compliance to authorities.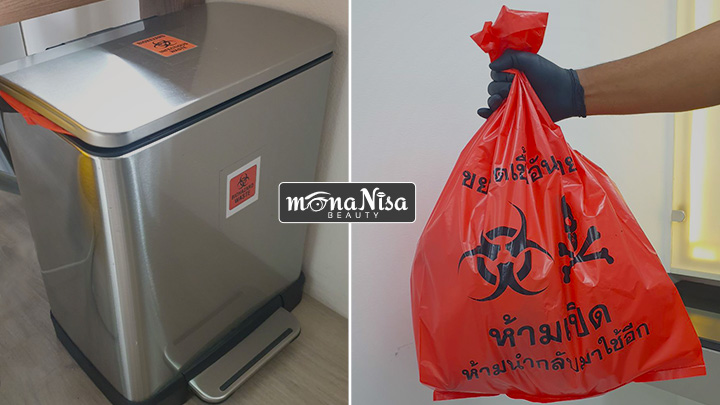 The waste products from the cosmetic tattoo treatment (excluding used needles) will be sorted into clearly marked, red medical waste bags. Everything that we use is discarded as potentially infectious garbage.
Disinfecting PMU Equipment
You might wonder what the blue, black and clear films are around the tattoo machine, why they have to be there and what the importance of them is.
The film is called "Barrier Film"; the colour is commonly blue or clear. One side of the film is sticky to hold on to the machine, the other side is smooth.
Disinfecting Tattoo Machine and Wires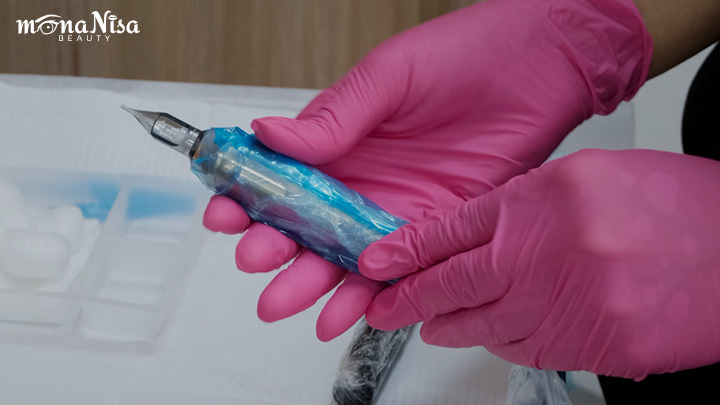 The film is wrapped around the machine to protect from customers' secretion and from the ink, lymph and blood during the procedure. If we don't wrap barrier film around the machine, the secretions will get into the crevices and small slits of the machine which is hard to remove.
The artist wraps the barrier film around the machine and sterilizes everything with concentrated antiseptic that kills strong viruses such hepatitis B.
Hepatitis can survive on normal surfaces for weeks or months and can't be killed by common alcohol wipes unless the equipment is soaked in alcohol for over 18 hours. That is the reason why we have a special antiseptic that can sterilize our equipment in a short time.
Disinfecting Power Supply
This kind of machine is often touched by the artist, whether they need to turn it on and off, adjust the tattooing strength or adjust the speed. This is why we need to wrap a barrier film around the power supply, to prevent germs.
If the power supply is not wrapped in the film and we tattoo a customer and just wipe it clean carelessly and then use it with the next customer; what will happen? As stated before, some kinds of germs are highly durable and common alcohol wipes are not enough. You would need to soak the equipment in alcohol for over 18 hours to kill germs.
A power supply is electrical so it can't be soaked in boiling water or alcohol. It has to be wrapped in barrier film and sterilized with a concentrated antiseptic solution. After removing the barrier film, the tattoo machine, wire and power supply will need to be wiped with disinfecting wipes and put into a UV-C sterilizer, which is commonly used in the medical industry.
Disinfecting Tattoo Machine Grip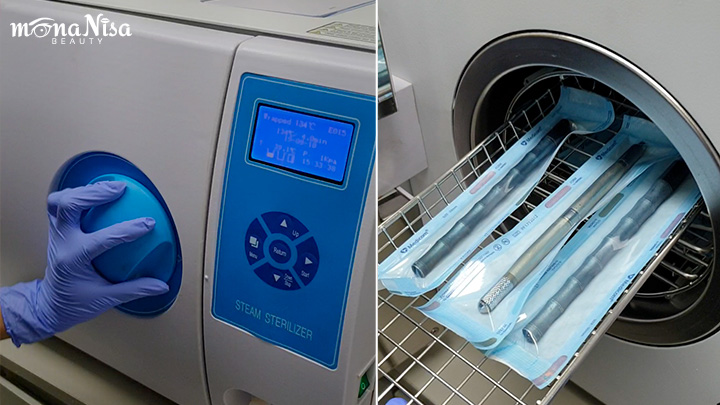 The tattoo machine grip is removable so it can be soaked in an antiseptic solution and sterilized with an autoclave machine. This sterilization technique is also a common practice in hospitals and medical clinics.
Our clinic was the first medical tattoo parlor in Thailand to use this sterilizing system, ensuring the highest level of safety for customers and staff.
For other electrical parts with which the autoclave cannot be used, we wipe them with disinfecting wipes and put them into a UV-C sterilizer to make 100% sure they are sterile.
Our technicians have many grips at their disposal so they can work through successive procedures quickly while still retaining high hygiene standards.
Disinfecting chairs, tattoo bed and tool stations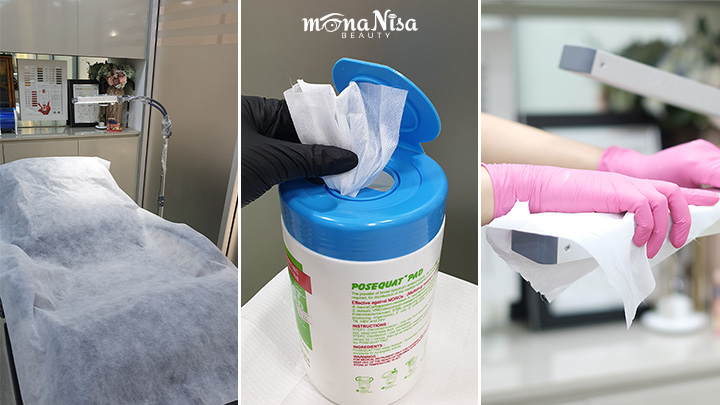 Chairs, tattoo beds and tool stations will be covered with disposable sheets and clear tape. After use we will change the cover and clean the surface with hospital-grade disinfectant pads.
Disinfecting Ruler, Eyebrow Pencils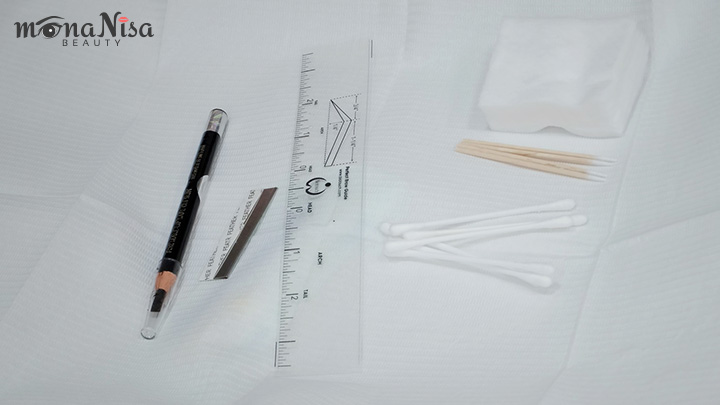 The pencil used during the eyebrow design is sharpened after every procedure to get rid of the tip used on the previous client. Our design set is sterilized with a high level disinfectant and UV-C sterilizer before using it. It includes one time use blades.
Disposable dressing set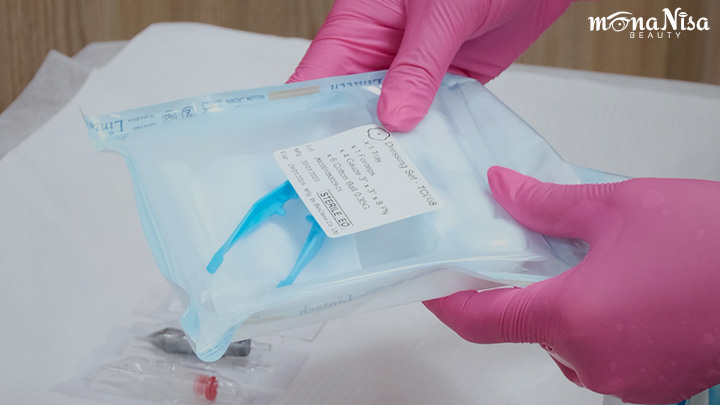 The tray, cotton pads and gauze are sterilized, thoroughly packed and open for use for each individual procedure. The whole set is disposable for hygienic reasons.
Disinfecting tattoo ink cups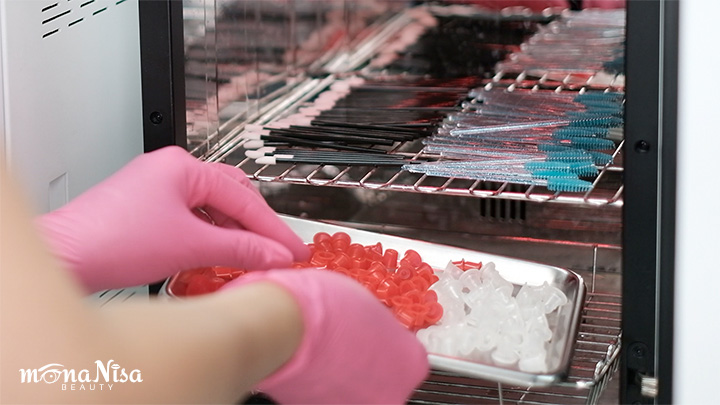 When we buy hundreds or thousands of ink cups from the factory, we can never be sure of their hygiene. We will then unpack every cup and put them in the UV-C sterilizer before use. Many people overlook this kind of small detail but we always strive to deliver the best and safest service.
Hygiene in treatment rooms
When we designed our treatment rooms at Hair Scalp Center, we chose our furniture to maintain the highest level of cleanliness and hygiene. We are now sharing with you a few hygiene tips if you intend to build a new treatment room or refurbishing an existing one. Clients looking at the hygiene in PMU clinics should also be aware of the following.
Preferably use automatic touchless faucets and automatic soap dispensers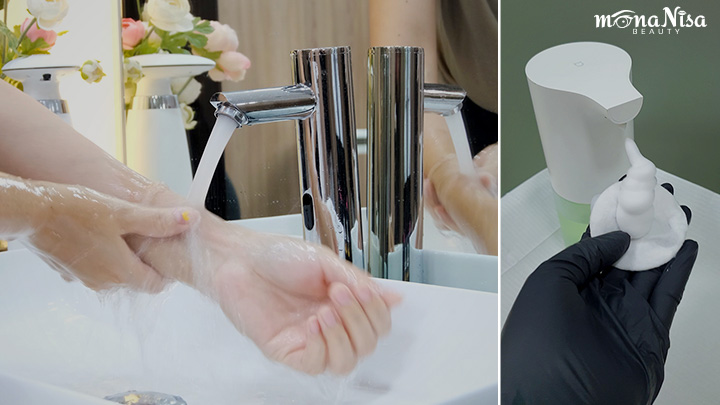 Every treatment room should be equipped with a motion sensor sink and soap dispenser to prevent the spread of germs after touching the faucet or the soap dispenser.
Avoid curtains, rugs and carpets in treatment rooms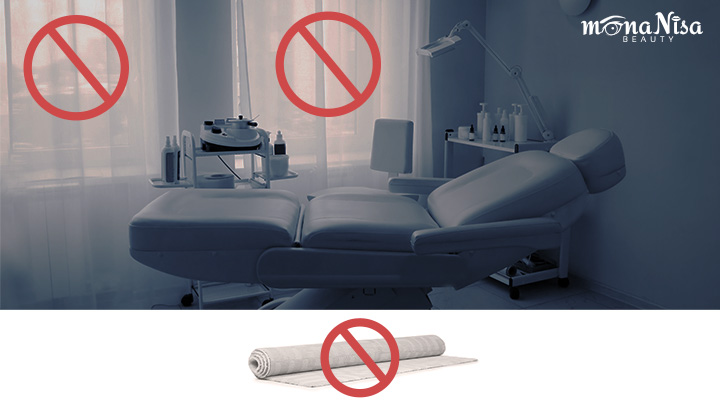 Tattoo parlors shall avoid having fabric curtains, rugs or carpets in their treatment rooms as they can be a hotbed for germ accumulation. This is because sometimes artists can touch them and spread germs and ink stains on the curtain.
It is rather difficult to maintain a daily cleaning and sterilization of curtains so curtains should not be placed in treatment rooms, even to part the beds.
Choose furniture that's easy to clean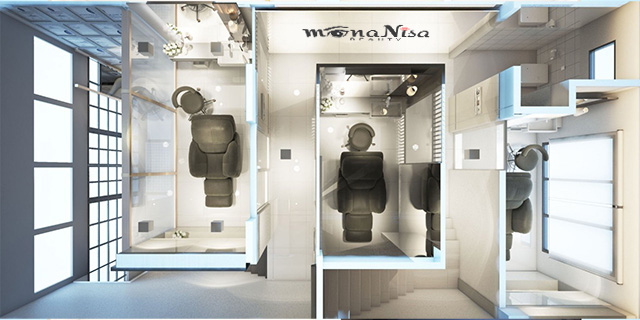 Every material in the treatment room, even the sofa, should be smooth and slick; not fabric or paper so it's easy to clean after each procedure.
Full License and Registration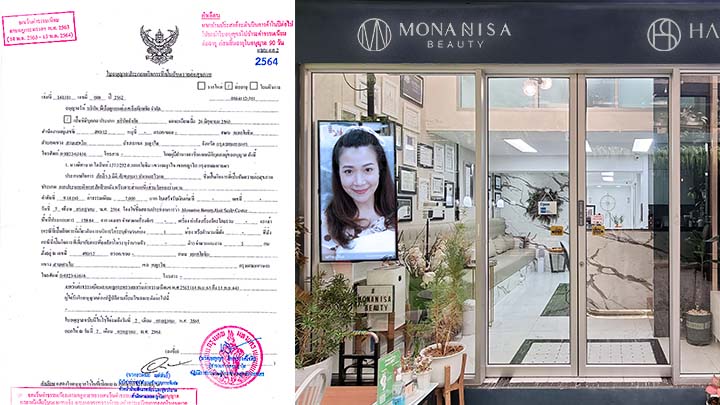 Not only are we fully licensed but the license is also registered to the clinic premises itself. Normally, the clinic must be a commercial building or in the mall.
Clinics in private residences are not officially recognized, due to this, they are often targeted by authorities and potentially forced to close.
Our clinic is compliant with the recognized national and international standards in every aspect, whether safety, hygiene or decoration/setting.
Certifications for Infection Prevention and Control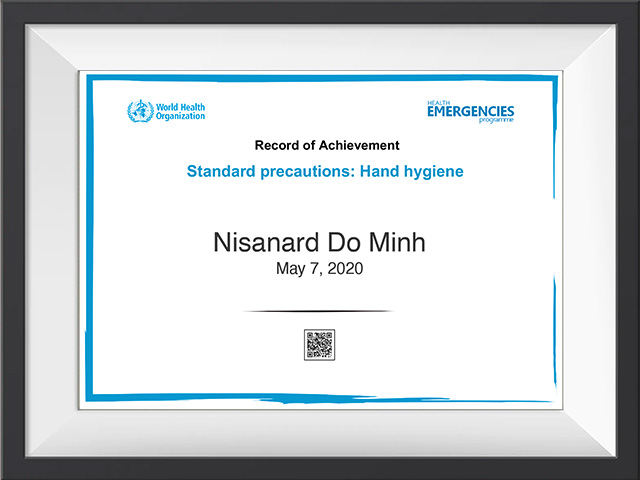 Our lead PMU artist Nisa used to be a registered nurse as an international hospital in Bangkok so she is very knowledgeable and serious about hygiene. She passed the following certifications:
Infection Prevention and Control (IPC) for Novel Coronavirus (COVID-19) — WHO.
Standard precautions: Hand hygiene — WHO.
Training and understanding of proper sanitation and disinfection practices and procedures consistent with the current hightest industry standards — Barbicide, USA.
COVID-19 Certification for the professional Beauty Industry — Barbicide, USA.
Bloodborne pathogens training and infection control for body art professionals — OSHA, USA.
Additional hygiene preventive measures due to COVID-19 pandemic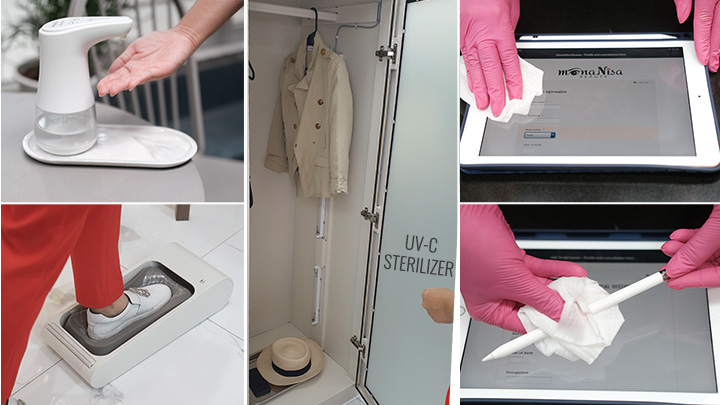 Following the COVID-19 pandemic, we have introduced the following measures in addition to our standard hygiene practices:
Our staff will wear a mask and a face shield at all times.
Clients will have to wear a mask in the clinic at all times and regularly sanitize their hands.
We will provide disposable shoe covers for clients to wear inside our clinic.
Clients will be able to clean their personal belongings such as their jackets, bags by placing them into our UV-C sterilizer.
In addition to our free aftercare kit, a face shield will be offered for them to wear outside.
Once clients leave our facilities, we will desinfect any items they were in contact with: toilet seats, toilet flushes, toilet sprayer, door handles, iPad, pen, sofa, chairs, credit card machine...
An air disinfectant diffuser will be used outside our opening hours to kill germs in the treated areas.
Hygiene is a continuous process requiring constant attention from permanent makeup providers. We hope that clients will become more aware of it when they visit clinics and that our best practices will contribute to elevate the standards of the industry.