Full Permanent Make-up Course
Are you amazed by the results achieved by MonaNisa Beauty? If you would like become a permanent make-up artist or learn new beauty skills, we provide a full permanent make-up course that will teach you eyebrow tattoo, lip color and eyeliner tattoo.
If you are also interested in learning other techniques, you will find the complete list of available courses at www.monanisabeauty.com/en/training/courses/.
What you will be able to do
Select the right pigments to perfectly suit the customer.
Master the color theory and the face analysis.
Choose the right eyebrow styles for the customer.
Learn the various eyebrow styles: microblading, shading and our signature mix eyebrows.
Learn about eyeliners, lip color
Practice on paper, rubber and on live models.
Practice on a live model for each learnt procedure (i.e. 1 procedure => 1 live model), adding up to a total of 5 live models.
Understand the process from receiving the customer until the end of the procedure.
Prepare the workstation for safety and cleanliness.
Learn the aftercare recommendations for each procedure.
What does the course include?
A training booklet, a pen, a pencil and a notebook.
An eyebrow ruler and an eyebrow pencil.
A set of eyebrow blades for shaping.
A good quality permanent make-up rotary machine.
A manual microblading pen for hairstroke eyebrows.
9 pigments (3 ml each) from USA.
A set of micro blading needles.
A set of nitrile gloves, disposable hats and face masks.
A set of cotton buds and cotton balls.
A marker pen, a set of color rings, an ink holder.
A white gound coat.
A pre-numbing cream and an aftercare cream.
A unique carry-on case.
live models for up to 5 procedures.
High standard equipments that you can use for your customers.
A clear face mask.
A blue pad.
A gauze pad.
Disposable Micro applicators.
Eye lubricant.
Clip cord tubing protection.
Empty container for afterface.
Lip liner.
Disposable dressing set.
Fake skin for practice.
A certificate of completion if you pass a written, oral and practice exams on a live model.
Why choosing MonaNisa Beauty Institute?
We put an emphasize on hygiene learnt from our nursing background.
We have learnt techniques from various schools from all around the world and developed our own technique to provide the best results.
We provide equipment of quality because we expect our students to use good and safe products to obtain nice results.
We gained experience from our international customer base with all kinds of skins, styles and colors.
Meet your instructor
Nisa has extensive experience in permanent make-up and keeps learning new techniques on a regular basis to improve her skills. She has also been using different pigments and equipment and can then advise on the best products to use.
Schedule and pricing
The training runs from 9:00-16:00. Lunches are provided. Here is the schedule for the upcoming courses:
| Month | August 2019 | September 2019 | October 2019 | November 2019 | December 2019 |
| --- | --- | --- | --- | --- | --- |
| Day 1 | Mon 5 Aug | Mon 9 Sep | Mon 7 Oct | Mon 11 Nov | Mon 23 Dec |
| Day 2 | Tue 6 Aug | Tue 10 Sep | Tue 8 Oct | Tue 12 Nov | Tue 24 Dec |
| Day 3 | Wed 7 Aug | Wed 11 Sep | Wed 9 Oct | Wed 13 Nov | Wed 25 Dec |
| Day 4 | Thu 8 Aug | Thu 12 Sep | Thu 10 Oct | Thu 14 Nov | Thu 26 Dec |
| Day 5 | Fri 9 Aug | Fri 13 Sep | Fri 11 Oct | Fri 15 Nov | Fri 27 Dec |
| Day 6 | Sat 10 Aug | Sat 14 Sep | Sat 12 Oct | Sat 16 Nov | Sat 28 Dec |
| Seats left | 3 | 3 | 4 | 4 | 4 |
Book this course by sending us a message on our Facebook page or sending us an email. To confirm your attendance, you will need to deposit ฿10,000 in a bank account whose details will be provided privately.
Reviews from our students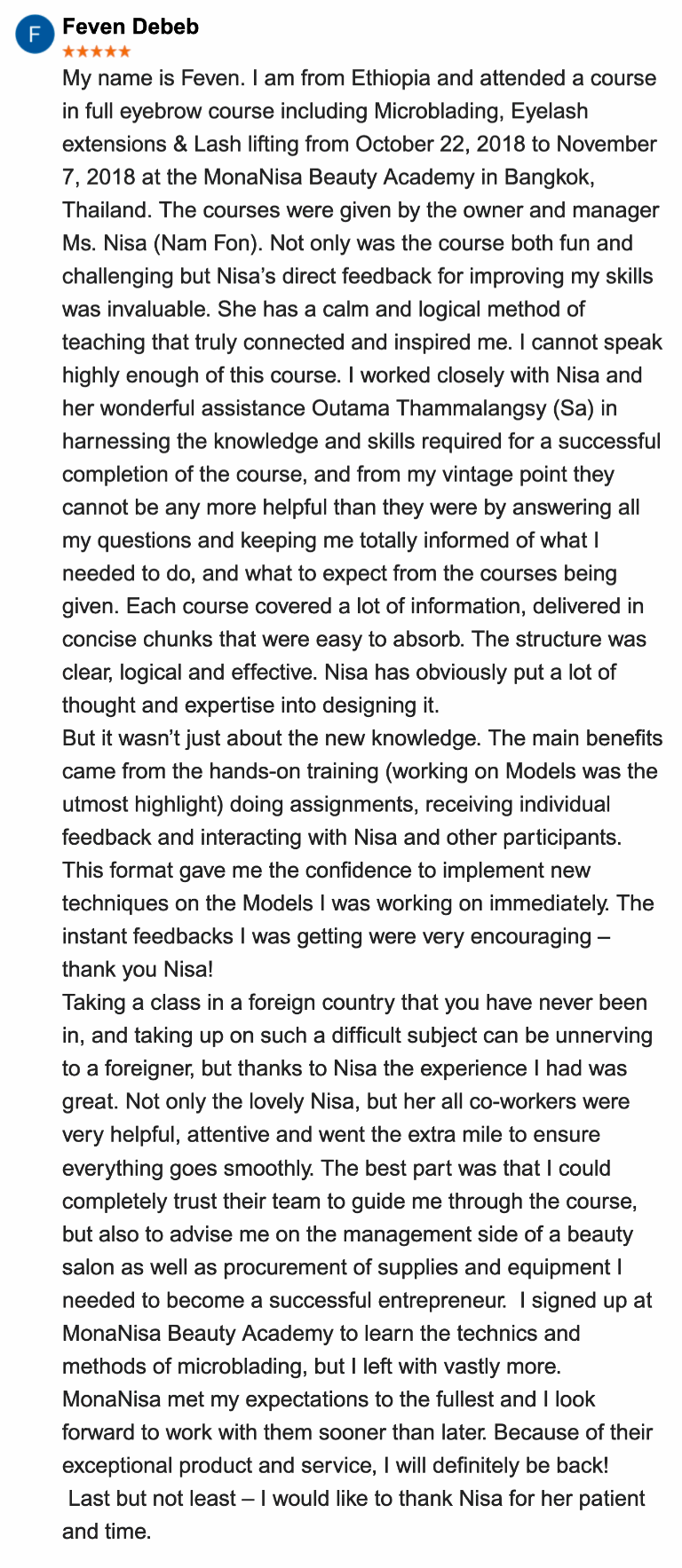 Disclaimer: This feedback is the subjective opinion of an actual customer as experience may vary by individual.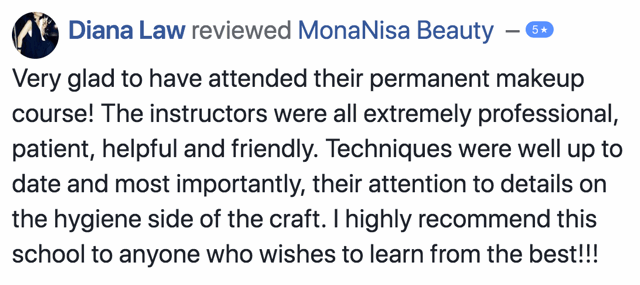 Disclaimer: This feedback is the subjective opinion of an actual customer as experience may vary by individual.